OUR VALUES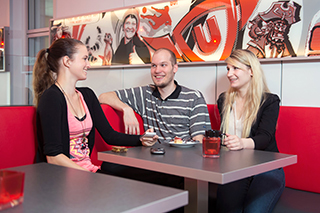 1. OUR PLAYERS AND THEIR GAMING EXPERIENCE COME FIRST
As a provider for digital entertainment, we're always on the lookout for the latest trends. Recognizing our players' needs and engaging them with new games and interesting updates is the driving force of our work. We do not content ourselves with the status quo, but are trying to create the perfect playing experience for our community. With respect to the games' development, we put our focus on high quality.
2. EFFICIENCY
All of upjers' games can be played for free in any browser in our portal, upjers.com. Likewise, our mobile apps can be downloaded for free in the App and Play Stores. As a commercial enterprise, we generate revenue by offering fee-based premium content. This content, however, is no prerequisite for enjoying the games. However, paid items allow players to progress faster, make gifts to his or her friends or profit from exclusive decorations.
Millions of players worldwide have already utilized these advantages in one of our games, voluntarily spending money. Other players simply require is a bit more patience to get ahead.
We want all of our players to be satisfied – regardless of whether they spend money or not.
3. PASSION FOR DEVELOPMENT
We work fast and dedicated on developing and publishing our games. Be it as a graduate or as a lateral recruit: anybody who loves games and development is welcome. Flexible working hours form the base for an ideal work-life balance.
OUR RESPONSIBILITY
upjers is aware of its social responsibility as a successfully operating German enterprise, and therefore dedicates itself to various charity projects. We support environmental charities, donations for non-profit purposes and work closely with regional institutions such as schools and universities. Social dedication is self-evident for upjers.