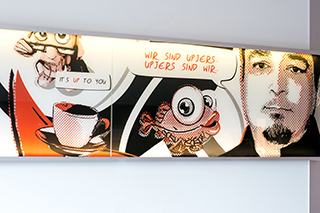 We are committed to our players – every day, we create new worlds of experience for millions of people all over the world with all our energy, our knowledge and all of our passion. Our online games and apps are freely available at no charge anywhere in the world – the sole requirements are a working internet connection and a love of games. Of course, we offer fee-based premium content for our games as an additional service. However, this content is neither required nor obligatory for long-lasting fun in our games.
OUR GAMES AND OUR OPERATING PRINCIPLES
Our games can be played for free in our portal, upjers.com, or downloaded as apps from the App Store or Play Store. Decorations, faster progress or the ability to give presents to your friends: By selling virtual goods, we provide an individual gaming experience free from subscription fees or hidden costs for our players. In our view, "free-to-play" is the fairest model of them all, because each and every one of our players can decide freely if, when, and how much money they're going to spend in the game.
Games are our passion. That's why we, as a company, rely on sustainable growth with long-term goals. We value unbureaucratic structures, professionalism and creative scope. Our employees are as unique as the company itself. They show an intense passion for games, their work and enjoyment of creative pursuit.
Although developing browser games and apps is a lot of fun, it also means a lot of hard work. Intense testing phases, ongoing optimization, and constant new updates are important to maintain our community's satisfaction. Our community always comes first – that's why we meet the desire of many players to develop apps for our browser games.
THE RESULT
We create graphically complex and high-quality games while putting our focus on getting started easily, and of course long-lasting fun. Since its inception in 2006, upjers has continuously grown. With new top hits such as My Free Zoo or long runners such as My Free Farm, we have solidified our position as developer of browser games in Germany and Europe and are set to expand our success with many fresh ideas and numerous new projects.